Looking for a great deal?
Finding sale items on EVERYSTORE is simple and convenient! We offer over 1,000 stores so finding a good deal is not hard! Here's how:
The best way to find sale items is to sign in with Pinterest!
Signing in with Pinterest will simplify the search for sale items from your favorite stores! When you sign in or create an account, EVERYSTORE will ask you to choose your favorite stores to create a feed for you. You will have three different feeds on your homepage to choose from: New Arrivals, Sale, and Saved. The Sale feed will have newly added sale items from your favorite stores so you won't have to scroll through endless stores to find them!
You don't need to sign in to view sale items
You can search items by clicking the drop down tab at the top of the page.
Click on the Sale tab to filter your results to sale items only.
This will open up more options to choose from, relevant to sale items.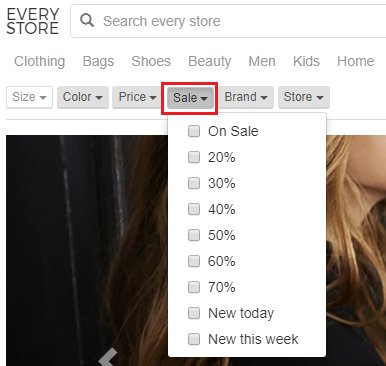 If an item is on sale, the original price will be crossed out, followed by the sale price will be in bold red. This can be found on any page. Any special promotions will follow the price.